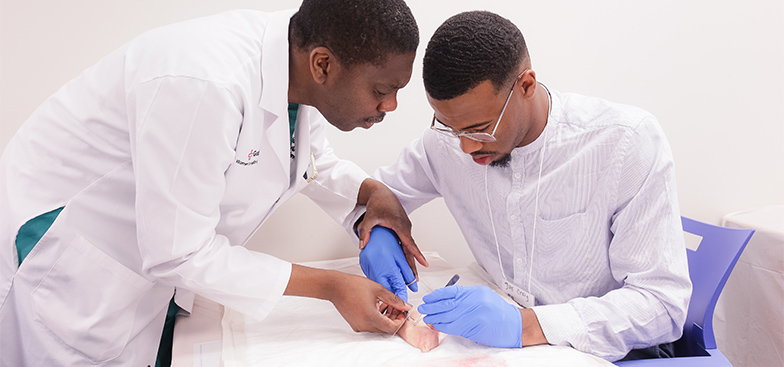 FOR IMMEDIATE RELEASE
Bloomberg Philanthropies Commits $26.4 Million Gift to Morehouse School of Medicine
Nation's Four Historically Black Medical Schools to Receive $100 Million to Fund Medical Student Scholarships Under the Greenwood Initiative; Estimated $100,000 Per Student Gift Comes Amid Dual Pandemics of Racial Injustice and COVID-19 to Help Bridge Health Equity Gaps.
(Morehouse School of Medicine, Atlanta) – September 3, 2020 – Morehouse School of Medicine (MSM) has been awarded $26.4 million from Bloomberg Philanthropies, the charitable organization founded by entrepreneur and former New York City Mayor and Presidential candidate Michael Bloomberg, the school announced today. The donation is part of a $100-million fund for students attending the nation's four historically Black medical schools: Morehouse School of Medicine (Atlanta), Charles R. Drew University of Medicine (Los Angeles), Howard University College of Medicine (Washington, D.C.), and Meharry Medical College (Nashville) over the next four years.
At MSM, the funds will be used to reduce medical school loan debt for Black students currently enrolled and receiving student aid. Each student will receive approximately $100,000.
This is the largest scholarship investment ever received by MSM, as well as the largest aggregate gift to date given to historically Black medical schools from a single source. This is the first investment from Bloomberg Philanthropies' Greenwood Initiative, which is named for the Tulsa, Ok., community and historical site of "Black Wall Street" and the Tulsa Massacre of 1921. The Greenwood Initiative seeks to increase generational wealth among Black families and address systemic underinvestment in Black communities and institutions.
More Black doctors will mean more Black lives saved, and fewer health problems that limit economic opportunity."
Michael Bloomberg
The country is becoming more and more diverse, but the diversity of its healthcare workforce still lags, with African Americans comprising just five percent of the physician workforce. This is due, in large part, to the high cost of completing a medical degree. The impact is significant, given that studies show that Black patients tend to have better outcomes when treated by Black physicians.
"This historic investment in the Morehouse School of Medicine will lift the crushing burden of student debt and empower our graduates to take on the systemic racial inequities and injustice that have been exacerbated by the coronavirus pandemic," said Morehouse School of Medicine President and Dean Valerie Montgomery Rice, MD. "These dollars will help free up future doctors to immediately head to the front lines and save Black lives while also improving healthcare access, equity, and quality for everyone. We appreciate Mayor Bloomberg's investment in health equity."
"More Black doctors will mean more Black lives saved, and fewer health problems that limit economic opportunity," said Michael Bloomberg, founder of Bloomberg Philanthropies and Bloomberg LP, and three-term Mayor of New York City. "During my campaign for President, I proposed a bold set of policies — which we called the Greenwood Initiative — to shrink the racial wealth gap. Today's commitment by Bloomberg Philanthropies is just the first step we will take to bring that work to life."
Students currently in years two, three, and four of medical school will receive retroactive scholarships of roughly $25,000 per year through their graduations, with the current class of first-year students graduating in 2024. Each institution will communicate this news to their communities in the coming days via a series of virtual forums and on-campus town halls with appropriate social distancing, mask-wearing, and other public health and sanitation protocols and testing in place.
---
About Morehouse School of Medicine
Morehouse School of Medicine is located in Atlanta, GA. It exists to improve the health and well-being of individuals and communities; increase the diversity of the health professional and scientific workforce; and address primary health care through programs in education, research, and service, with emphasis on people of color and the underserved urban and rural populations in Georgia, the nation, and the world. The faculty and alumni are noted in their fields for excellence in teaching, research, and public policy, and are known in the community for exceptional, culturally appropriate patient care. Morehouse School of Medicine is accredited by the Commission on Colleges of the Southern Association of Colleges and Schools to award doctorate and master's degrees. To learn more, visit www.msm.edu.
About Bloomberg Philanthropies
Bloomberg Philanthropies invests in more than 570 cities and over 160 countries around the world to ensure better, longer lives for the greatest number of people. The organization focuses on five key areas for creating lasting change: the Arts, Education, Environment, Government Innovation, and Public Health. Bloomberg Philanthropies encompasses all of Michael R. Bloomberg's giving, including his foundation and personal philanthropy as well as Bloomberg Associates, a pro bono consultancy that works in cities around the world. In 2019, Bloomberg Philanthropies distributed $3.3 billion. For more information, please visit bloomberg.org or follow us on Facebook, Instagram, YouTube, Twitter and TikTok.
Contact: Bill Doughty (720) 212-1290 wdoughty@msm.edu